MOHID provides several options to customize and manage the Memberships you offer to your community. Please go through the settings of Membership module to provide the necessary input as per your requirements.

Memberships are categorized as Group and Individual. Users can now create as many membership types as they require; each with its own set of fees for membership signup. You can also specify the membership type that will be offered to online membership signups only or via admin or both.

Other features in the membership include Membership Promotion, Membership Renewal and a way to keep record of Membership fees due.

Note:
Move your cursor over the information icon

placed next to any field to view the description provided.
Go to Settings > Module Settings > Membership


- Click on New Membership Type button to add membership types in the system.

- Enter the details of Membership Type.


Visibility will define the mode of availability for membership type (Inperson is for Admin, Online is for online membership signup form, All is for both Inperson & Online).
Membership Category can be Individual or Group. Individual membership will cater to single members, whereas Group membership can have multiple members who sign up as a group.

Membership Fees is categorized as Annual Fee, Per Month Fee and Lifetime Fee for Individual Membership.For Group Membership, fees can be paid either as a group or charged on per member basis.

Visibility (for Membership Fees) is an option that can be used to define the availability of a payment method to your community within the membership type (which can be via online, admin or both).

Allow Approval for Online membership: If this option is turned-on, then the membership request will be send to admin for approval (this is applicable to online membership sign-up only). If admin's approval is not required, then keep the option turned-off for automatic approval of membership requests.

In this case Member will be able to proceed with payment processing via online membership sign-up.

Custom Fields For Inperson are the additional fields that will be displayed when membership is added via admin.

Custom Fields For Online are the additional fields that will be displayed on online membership signup form.

Allow Zipcode Verification is an option to limit the community who can sign up for any particular membership.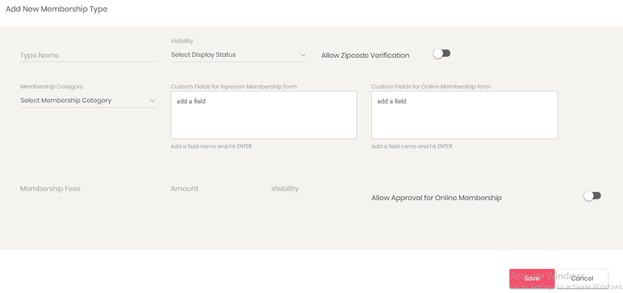 Under POLICIES, you need to do the setup of Membership Duration, Renewal, Privileges and Cancellation. Please check following for further details.

- Duration and Renewal settings are used to define the membership duration and renewal options.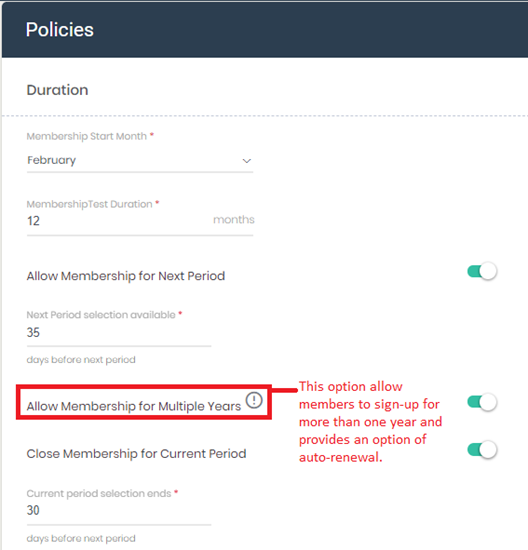 In order to charge membership fee according to the remaining number of months in membership period, please turn on the option "Charge Pro-rated Amount" under Renewal.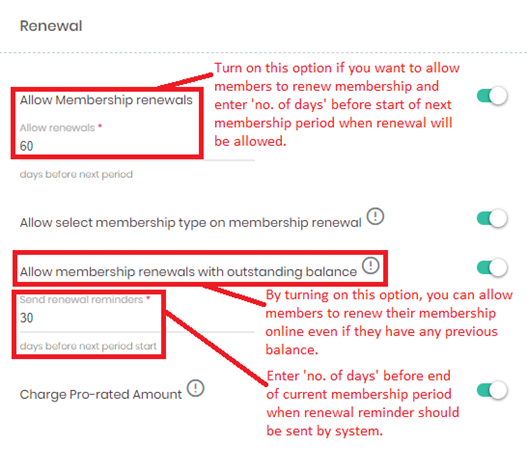 Current Year:
If members only want to signup for currently ongoing membership period which means that membership duration is only of 1 year then
Current Year
has to be selected.
Multiple Years:
This

option is relevant in the case when members want to signup for more than one year. In our system, multiple years duration is calculated as current year+additional years.
Next Period:
This

option is available if member wants to signup for the membership in the upcoming period.
Previous Year:
This

option is available only on the Admin dashboard and only admin can add membership for the previous year for any member and collect dues as required.
- Select Privileges that you want to offer to your members by clicking on the option "Set Member Portal Privileges"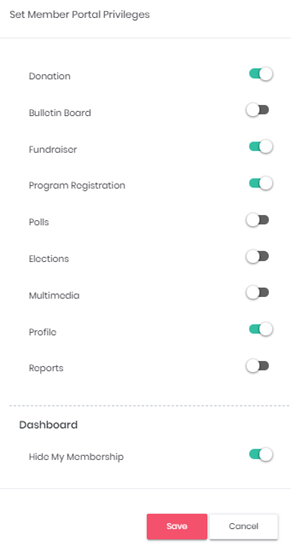 You can also offer free membership to donors after they have made certain amount of donation. You can set this limit by entering the amount in the field "Offer free membership" provided. Turn on the option and enter amount to activate the feature.


- Cancellation section can be used to specify validity of memberships w.r.t fees payment and also define the eligibility of any member to renew for next period.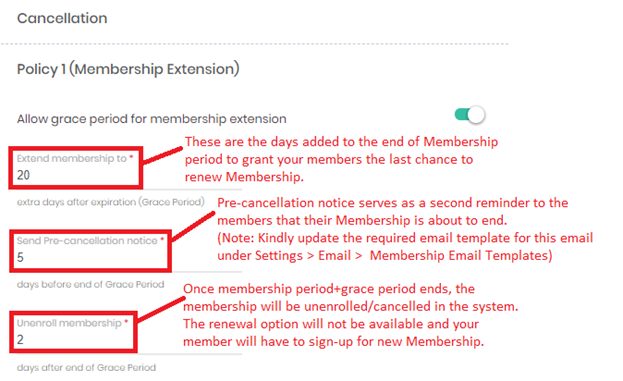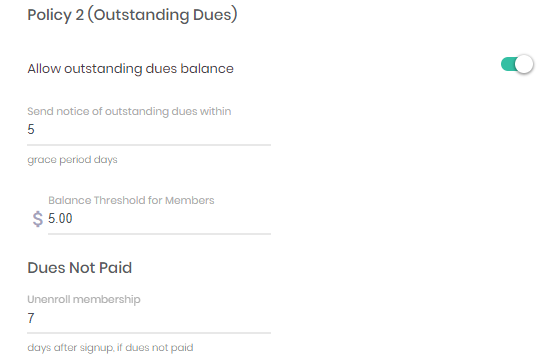 - Member Related Settings section offers various options for Inperson & Online forms.Options to Hide/Show and customize

fields are provided.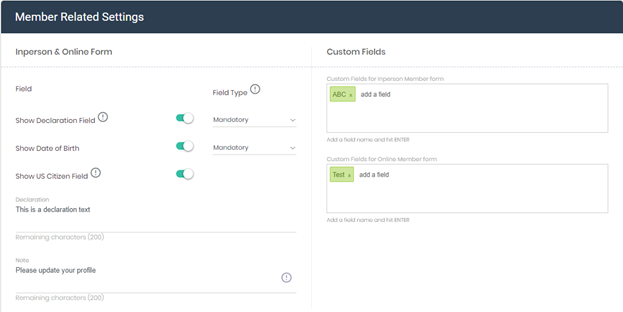 - Other Settings section offers various options that can be used as required.

If Allow Member Credentials Email option is turned on, then members will receive an email with details (user name, password and member portal link) to access member portal.

Membership Admin Email: If email address is entered in settings then an email will be send to entered email address with the information of the new online membership signup.

- Click the Save button when the required settings are done.