Admin can add discounted rate for members for Program Fees and Fundraiser Tickets.They can be done when setting up Programs or FR event. Once the fee is setup, admin can register members for program and sell tickets at the discounted price.

Members can also login to their member portal from masjid website and register for programs and purchase FR tickets at discounted rates.

To add discounts for Members, you need to follow below mentioned steps:
In Programs

- Go to Programs > Create/Edit Programs > Add discounted price for Members under Fees and Registrations section.

- Click Save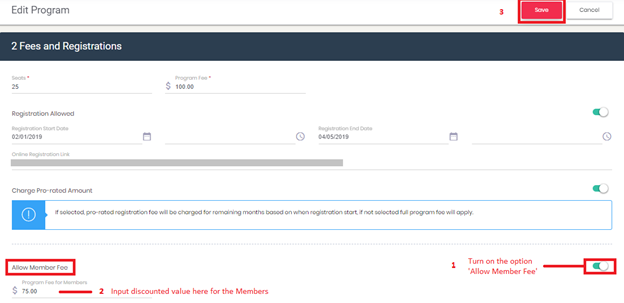 In Fundraiser Event

- Go to Fundraiser > Create/Edit Event

- Enable 'Apply Promotion' option under Promotion section

- Enter Promotion details like Promotion Code, Description, Value (%) that you offer as a discount to your Members, Status and expiry date.

- Click Save


Admin will communicate such Promotion codes to their Member community so they can avail discounts by applying the codes via online Membership form or Member portal.