To add fee type to invoice, please follow the steps mentioned below.

1. Go to Fee management > Fee payment > List all invoices.

2. Search required invoice by parent or student name.

3. Click on $ icon from action column.


4. It will open the window of pay invoice.
5. Click on + sign present on the left of the invoice, below invoice number.

6. Click on "Add new Fee Type" from drop-down.


7. "Add Fee" type window will appear, select required fee type from the list.

8. Click on add fee type button.

9. Then click on the Save button displayed at the bottom of the screen.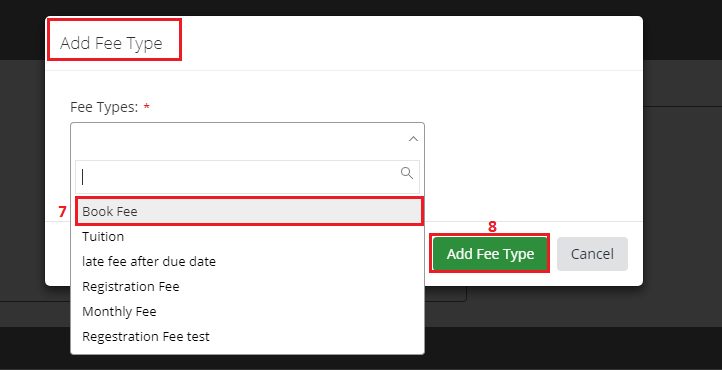 9. Confirmation message will appear once fee type is added to the invoice successfully.

10. New fee type can be viewed under previous fee type.

11. Total payable amount is showing added value/amount to pay for this invoice.


Fee Type is added to the invoice.

Note:
Export Button
There is an export button on the extreme right. By clicking on it all the records are transferred to an Excel file, you can take a printout of it and use it as per your requirement.
If you are unable to view the EXPORT button on screen, then please refer to below attached help article:
How to Enable EXPORT button on screens