Please refer to the following steps to generate Year End Tax Reports:



Step# 1 (Donor Consolidation)

Before the generation of Year End Tax Reports, you are requested to find and consolidate duplicate donors in your system so all transactions are effectively associated with the correct donor. There should be only 1 corresponding donor record (primary) for a donor, all other records for this donor should be consolidated. Please refer below article regarding further details:

---
Step# 2 (Year End Summary generation)



Year End Summaries or Tax Reports can be generated for an individual donor or a combined report of all donors who are present in your system and has made at least one transaction in donation categories during the specified time period.

Important Note:

- The process for YES generation executes every 15 mins except between 3am - 10am Central time.

- If process of year end summary generation is executed again for the donor, then his/her previously generated report will NOT be accessible and link shared via email becomes INVALID. Please make sure to email the year end summary receipts to donors ONLY after the final generation.

Below is a Short Video Tutorial including the new page composer for Cover letter. You are requested to go through the complete article in-order to get complete information other important features.

VIDEO TUTORIAL

To generate Year End Summary, please go to Reports -> Donations -> Click on Year End Summary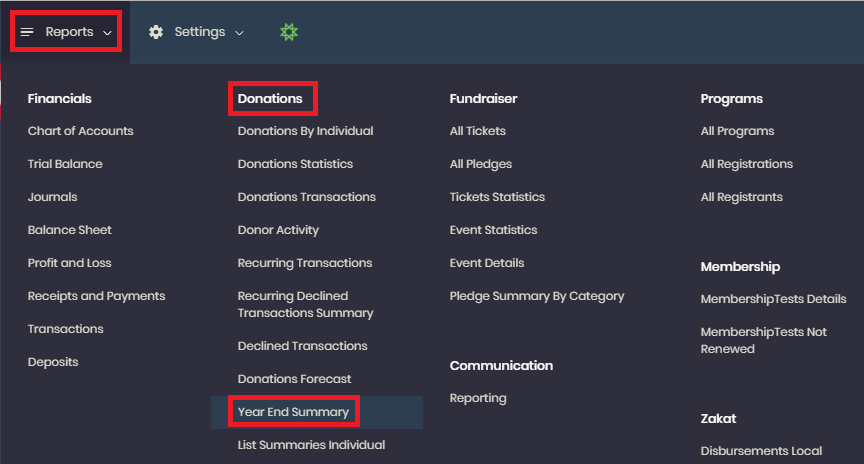 The process is based on following 4 steps, please follow the instructions present in each step to generate YES.

1. Donor Information

In this step, you can either generate a combined report or an individual donor report. For individual report you will need to check the option for 'Individual Donor', enter name and click Next but for combined, just click Next without selecting "Individual Donor" option, then system will generate the year end reports for all donors automatically. You can also include Spouse donations in this step.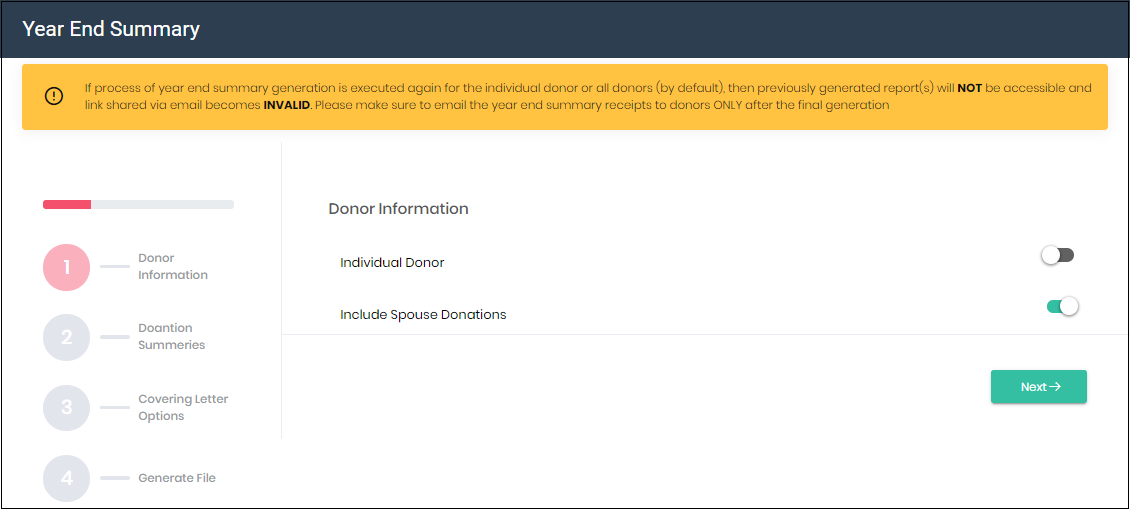 2. Donation Summaries
In this step of donation summaries, you have option to set transaction amount range (minimum and maximum) to show in YE Summary report.
Select year, date, categories; modify columns that you want to display in report and you also have option to include 'receipt no.' & 'Tax id' on Summary pages. For your information, the categories that have at-least one transaction will show up here under categories. Click Next.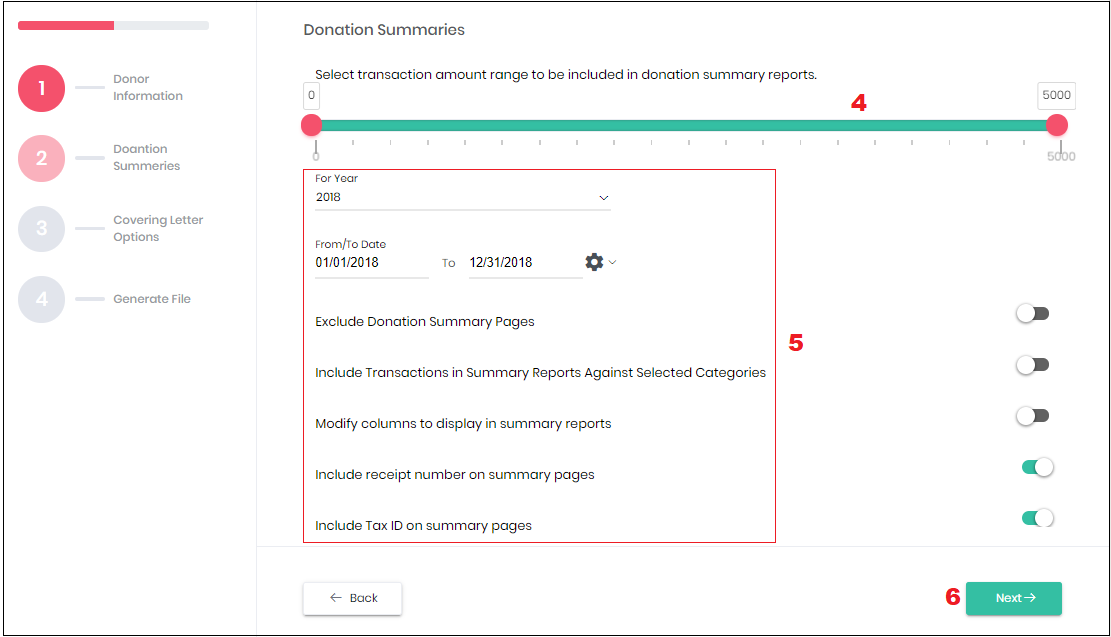 3. Covering Letter Options
In this step, you can modify the presentation of your report.
You have option to include Cover Letter etc., where you can enter your required text, with the placement/alignment settings of different headings etc.

Make selection as per your requirement and then Click Next.

(Imp note: Please check information regarding the Logo at the end of this article)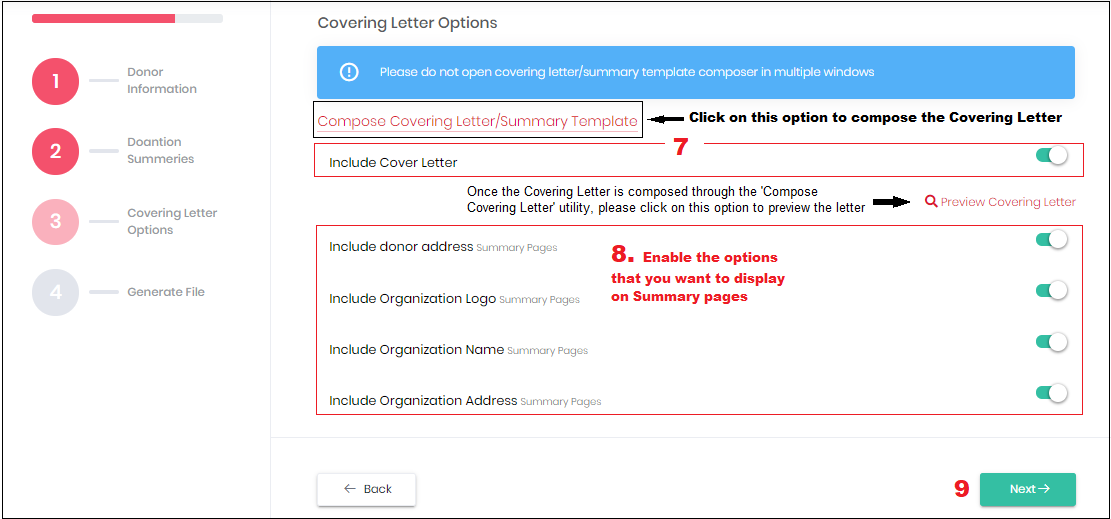 4. Generate File
You have option to generate a PDF or Zip archive file. Important thing to remember is whenever you generate a combine YE summary file, then individual donor files are also created simultaneously in system under "List Summaries Individual".
For the file to be generated, you can select option of email notification & publish report on Member portal, which will contain a link to download the file on portal.


Click Yes to confirm.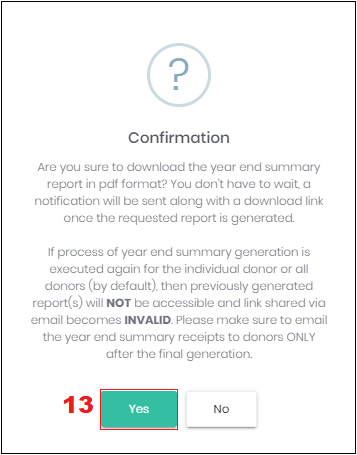 Further Information: When you click on 'List Summaries' to proceed, you will see the following interface where you can access both individual & combined files. The most updated file will be on top.
Note: 'List Summaries Individual' & 'List Summaries Combined' is accessible from Reports -> Donations

Also when a combined report is requested through a PDF file, system will bring up two more files at the same time. One will be of all the donors that have No email address and other will be of No postal address but there will be no such thing if a file which is generated through Zip Archive option.

On List Summaries Combined screen: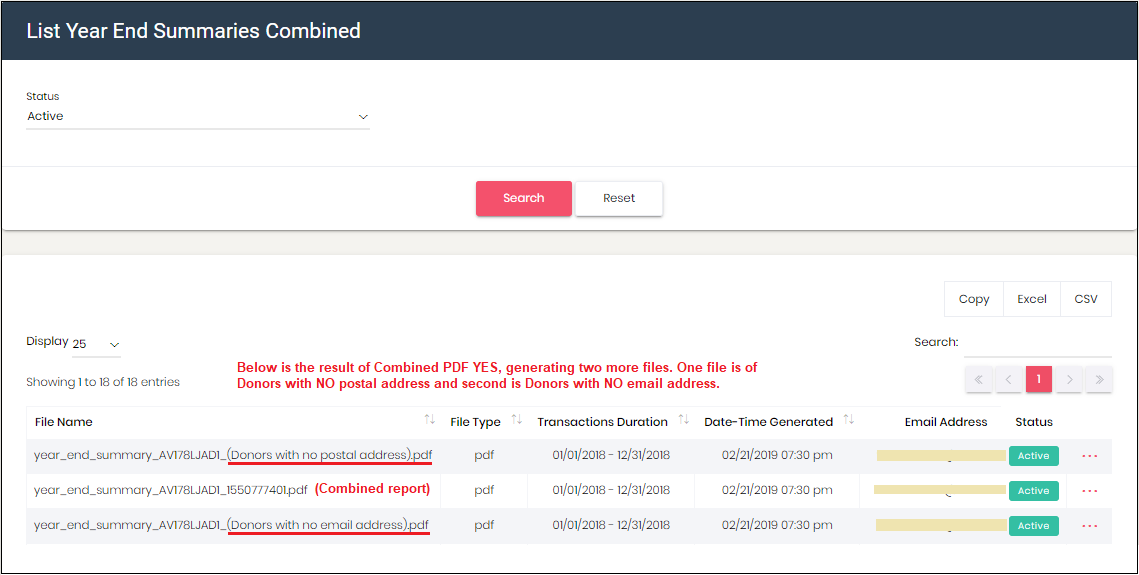 On List Summaries Individual screen:



Email Template:
You are also required to update the email template to send tax report emails to your donors. For this please go to Settings > Emails > Donation Email Templates > Year End Donation Receipt (from admin) > Customize as per your requirement and SAVE.

Settings required for Logo:


It is required to have the Masjid Logo file uploaded in the General Settings to show it on the YES reports. Also update the receipt settings as per below configuration under the option of 'For slip to be print' > SAVE