Using Import Admissions feature, you can easily import the enrollment information of the students via single click.

Salient Features:

- You can import enrollment information of all students in your school.

- You can import enrollment information of a single student enrolled in multiple courses.

- You can associate siblings via import.

- You can also open new invoices for fee collection or track paid fee amount.

- You can import your student enrollment records with or without fee information.

---
In order to import admissions, please follow the steps mentioned below:

-. Go to Dashboard > Tools > Import data

-. Click on Import Admissions tab.

- Click on Download Sample Template icon to download template file and save it on your system.

- Please read import guidelines displayed on the screen carefully and enter your data in template file accordingly.

Import Guidelines:

. Do not change or reorder column names in template.

. Only allow .xls format.

. Make sure that the Grade Name, Fee Type mentioned in file already exists in the Muntazim system.

. If you have the Grade in the listing as "Grade 1 >> Dars e Quran" then you have to enter Grade as "Grade 1:Dars e Quran" in the template file.

. Make sure that 'Parent First Name', 'Parent Last Name', 'Email' and 'Phone' are exactly the same as in Mohid if this donor exists in Mohid.

. Make sure that If "Fee Type" is stated for any grade in the template, then "Amount Paid" and "Balance" columns are MANDATORY and correct values should be provided.

- Click on browse and select your updated excel file.

- Click on Import.

Notes:

- When entering data of siblings in import file, please keep parent information same for all the siblings. This will allow system to associate the student records.

- For enrollment information of student enrolled in multiple grades, please enter a row for each grade separately.

- Invoice with option to process payment will be added in the system if BALANCE column has a non-zero value.

- In order to record previous payment from parent (for example, registration fee collected previously), please enter a correct value in Amount Paid and BALANCE=0.

- If fee type is entered in the import file which is not associated to the grade in system, then the fee type will be associated to the student.


See below for Mandatory and optional fields for import data sheet, (Details also available on import admission screen.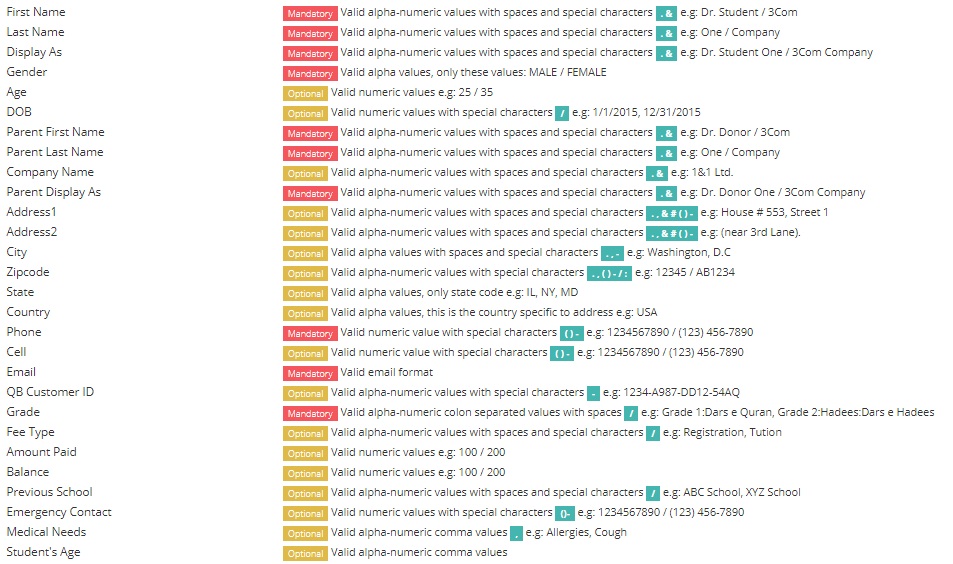 Please note that data for custom fields of admission form cannot be uploaded via import. As each grade can have different template form associated to it, hence this feature is not available.

Revert Import: This option enable user to revert the import data from the system, if user need to remove imported records from system for any reason.

Please follow the steps mentioned below in order to revert:

- Go to Tools > Import Data > Revert Imports- Click on the Revert button.


With the click, user will get below confirmation. Click "OK" This will revert all the imported data from the system in the sequence displayed on the screen.